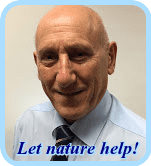 Hello,
My name is Fintan. thank you for visiting, you are most welcome to my website.
I'm 64 years old with three grown up daughters and one beautiful grandson.I started this website because I'm a great believer in letting natural products take care of us.I have been down the road of prescribed medications, to be honest in my case I have found natural products gave me much more effective and longer lasting results without side effects.
I work in elderly healthcare and I see a lot of common health conditions on a daily basis such as heart disease, high blood pressure, inflammation and pain.
---
What you can expect from this website
Well researched content
Honest and practical advice on common health issues
Benefits and side effects on natural products
A little bit about my health challenges
At age 45 I had a 95% blockage in my left ventricular artery, that's the main artery to your heart.I wasn't aware of this as I didn't have any symptoms other than feeling really tired. My cholesterol was up to 6.9 so my doctor prescribed Lipitor to bring it down,he said that it was only a matter of time before I had a heart attack.
It happened whilst I was jogging on the beach, the pain was like a massive heaviness on my chest and I felt terrible,I thought I was going to die.Luckily I survived,the medications kept me alive and I managed to get back to work after 6 months of rehab.Imagine the life that my wife and three children would have had without me.
---
Some years ago I read a book called "No more Heart disease" in the book three scientists made an amazing discovery showing how important Nitric Oxide was in the smooth flow of blood to the vital organs in the body. After my heart attack I had an angiogram, the results showed that my left ventricular artery was blocked (95%) I also knew that If I started taking ProArgi 9 + it would help to start the process of plaque removal.
Five years ago I discovered the powerful benefits of ProArgi 9 +,I stopped taking drugs.After two years of taking ProArgi 9 + my cardiologist explained how the angiogram had shown that all the plaque that caused my heart attack had disappeared apart from a little bit around the heart stent.

Because of my past history I can't afford to mess around with my health, so for that reason I will only recommend a product that I use myself over a long period of time.
You will find a lot of information about a miracle enzyme called Serrapeptase, I have used Serrapeptase to help me fix a painful hip problem which I had for a number of years and was getting more and more painful.
I come from a healthcare background and like to write about natural products that help people with common health conditions.
---
Throughout my website I will try to give you as much information as possible about natural enzyme products such as Serrapeptase,Nattokinase and the amino acid ProArgi 9 + so that you are fully aware of the beautiful properties of these wonderful enzymes and amino acids and how they can help with various health issues such as swelling, inflammation, pain,heart disease,erectile dysfunction and carpal tunnel syndrome..
The list of health conditions is endless so I hope that you will find the information that you are looking for,please use the contact form to email me if you need any help.
Please look around, I hope that you will find something interesting, as always please leave your comments,they are much appreciated.
Take care,
Fintan Duggan