Natural hip bursitis pain relief
I will show you how I found a natural hip bursitis pain relief that actually works!
I should know how painful hip bursitis is because I had hip bursitis pain for over one year, I found that the pain in my hip started off in a small way and gradually went from being a lit bit troublesome to having a major impact on my day to day activities.
For example if I were to stand up in the one position for more than 5 minutes I would get a very sharp pain in my left hip, it got progressively worse so to get some pain relief I found myself having to sit down, that did help.
At the beginning the pain would be centered around my left hip bone, however over time the pain would extend all the way down my leg almost to my knee. I found that I had hip pain almost every day, it affected me at work, it affected my sleep because I would have to sleep on my good side to get pain relief.
I tried Ibuprofen for hip pain relief but to be honest I found only light relief not enough to make my life more comfortable.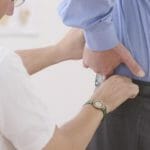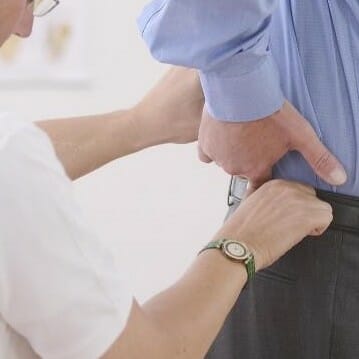 Hip pain diagnosis
After about the first year of putting up with the pain and hoping it would go away I made the decision to make an appointment with my doctor.
He did examine my hip and leg, he almost turned me upside down, twisting my leg and hip this way and that. He wasn't sure whether I had arthritis or hip bursitis so I needed to go to a hospital for a hip Xray.
Following the hip Xray the hospital consultant informed me that 50% of the cartilage surrounding the hip had worn away, he said that luckily I didn't need a hip operation however he did inform me that I would have to live with hip bursitis pain, for pain relief he recommended over the counter painkillers.
Treatment options
His advice on treatment options were over the counter prescription inflammatories or ibuprofen.
To be honest I'm not a big fan of prescription drugs, they are ok for a short time I did not like the side effects like muscle cramps and nausea, I began to look for natural hip bursitis pain relief.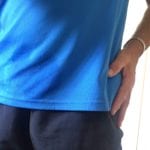 What did I do to relieve my hip bursitis?
First off I informed myself about the exact causes of hip bursitis pain, after a lot of research I found that sure enough inflammation is the number one cause of hip bursitis.
The bursa are very small sacs of fluid that surround the hip bone, basically the bursa are there to make sure your hip bone moves smoothly ever time you use it.
How does inflammation cause hip bursitis pain?
Inflammation causes swelling and pain in the hip bursa  area, it leads to discomfort and affects activities of daily living. I did my research on the causes of hip bursitis pain, I discovered that there was a powerful natural enzyme available that could put me on the right path and show me how to get a natural hip bursitis pain relief by dealing with the cause of the pain namely inflammation.
Success
I purchased a good quality Serrapeptase the natural enzyme dosage was 250,000 IU by four times daily, did it work straightaway ? In my case hip bursitis pain relief took about 4 months in total to get rid of the pain altogether, now I am pain free, I can walk, stand up for long periods without any pain.
I can sleep and work without pain, you could call it success as a natural hip bursitis pain relief.
Are you in extreme hip pain and not sure what is causing it?
The pain is always there and the only relief that you get is from painkillers or by sitting down.
I know exactly how you feel because I have been there myself.
Does it hurt when you lie down? Mine did, until I found out how to relieve the pain in my hip.
Your pain may be a condition called hip bursitis, if that is what your diagnosis is Serrapeptase can help to relieve the pain in your hip.
I am going to show you how to relieve hip bursitis pain using a natural hip bursitis pain relief.
What causes hip pain?
It is possible that the hip pain is caused by arthritis, so a Doctor will give you a diagnosis or refer you to a specialist to diagnose your condition. For today I am going to focus on hip bursitis pain and what you can do to relieve the hip pain.
What is Bursitis?
First, let me explain what hip bursitis is, one of the most common spots for bursitis is the side of the hip, the bony bump is covered by a large tendon. We call the bony bump the greater trochanter, when inflammation occurs between this and the tendon we call it trochanteric bursitis.
As we age this becomes more of a problem but sometimes we see it in younger people who are very active and take part in exercises like running, biking or walking.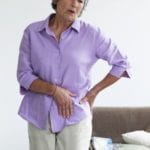 Hip bursitis pain will occur when there is friction between tendons, muscles and bones, within this trio we have what is known as a bursa. A bursa (a small sac of tissue) contains fluid to reduce friction and to lubricate the area.
When we have too much friction because of wear and tear or injury a bursa may become inflamed because of injury or too much friction in that area.
As a result of this the inflammation can cause pain and swelling and standing or walking will not help with the pain.
There are other circumstances where the bursa can become inflamed, for example by falling on the hip, this can lead to a bleed in the bursa and form a hematoma. Whilst this isn't serious the bursa may become inflamed which can lead to the bursa becoming thickened and this can lead to regular irritation and over time may become chronic.
Symptoms of hip bursitis pain
The first sign of trochanteric bursitis is pain in the hip area right over the bump that where the greater trochanter is located, at times the pain will be felt down the side of the leg or outside of the thigh. As the pain worsens there may be hip joint stiffness and limping, eventually the hip bursitis pain will lead to ever present pain and may interrupt sleep.
Hip bursitis relief If the condition is brought on by overuse it can be remedied by changing the way you do your activities or by doing less activity.
Exercise program
In tandem try doing a stretching and exercising program, in young people a course of anti-inflammatory tablets will usually help with the hip pain. A physical therapist will use treatments like ice applications or heat to calm the inflammation.
Alternatively, hand massage therapy will help by improving strength in the hip and buttock areas which will enable the femur to move smoothly in the socket and reduce friction on the bursa area.
Treatment
Treatment can take up to six weeks depending on the individual. Cortisone injection If rehab doesn't reduce the bursitis hip pain the doctor will inject cortisone into the bursa to give temporary pain relief, it may not cure the hip pain but it will reduce the pain for a while.
Serrapeptase a natural hip pain relief supplement
Serrapeptase has been known to help with pain, swelling and inflammation for a number of years, it is well worth a try.
Serrapeptase is an enzyme, it is safe to take even with other medications.
It has worked amazingly well for me and you can read how I got rid of my hip pain by clicking here.
---