Advanced bionutritionals perfect amino reviews
This post covers Advanced Bionutritionals perfect amino reviews, this natural product contains 8 top essential amino acids that help to build muscle mass that has decreased with age.
Not only that it works to build muscle mass for those that want to be stronger, read perfect amino reviews from customers that have purchased this product from the 30-year-old company based in the USA.
What are these essential amino acids?
Essential amino acids consist of organic compounds made up of carbon, nitrogen, oxygen, hydrogen and others (20) in the side chain that your body needs to function and grow properly, all twenty are important to keep you healthy however only nine if them are in the essential class and these are:
Valine
Histidine
Lysine
Phenylalanine
Tryptophan
Threonine
Isoleucine
Methionine
Leucine
Essential amino acids are unlike non-essential amino acids because you only get those through your diet whereas you body produces non-essential amino acids, the best foods to obtain essential amino acids from are eggs, meat and poultry.
As you eat protein your body breaks it down into amino acids that is used to assist your body with a number of processes such as regulating immune function and building muscle.
I wrote this post on Advanced Bionutritionals perfect amino reviews because people like me that are in their sixties will find that as we are getting older natural wastage occurs in our muscles meaning we just don't have the energy or power to keep doing everyday stuff.
I feel that by making people more aware of the importance of essential amino acids in building muscle mass and other important jobs in the body will convince them that a supplement like Advanced Bionutritionals Perfect Amino supplement could be the answer to the problem of muscle wastage.
What's in Perfect Amino?
This article wouldn't be complete without telling you a little bit more on what's in Perfect Amino, the supplement contains a unique mix of the following amino acids:
L-Lsoleucine is the final branch of the three branch chain, it is associated with muscle metabolism, it is primarily found in muscle tissue and is important for immune function, regulating energy and the production of haemoglobin.
L-Lysine plays a very important role in hormone and enzyme production, calcium absorption, protein synthesis, production of collagen and elastin, immune function and energy production.
Threnonine is a major part of the structure in proteins like collagen and elastin vital for healthy skin and connective tissues, threnonine has a role to play in fat metabolism and a healthy immune system.
L-Phenylalanine is involved as a precursor for transmitters like dopamine, epinephrine, norepinephrine, and tyrosine and plays a pivotal role in how proteins and enzymes function, phenylalanine is also involved in the production of other amino acids.
L-Tryptophan often thought to affect drowsiness however it has a lot of other functions for example it is a precursor to serotonin, it is a neurotransmitter that regulates your appetite, your sleep and mood.
L-Leucine is similar to L-Valine a branched chain amino acid that is essential for muscle repair and synthesis, it also stimulates healing, produces growth hormones and regulates blood sugars.
L-Valine is one of the triage of branched amino acids that means that it has a chain that branches off to one side of the molecular structure, this amino acid helps with stimulation of muscle growth, regeneration and energy production.
L-Methionine is included in this unique combination because of its role on detoxification and metabolism, it's also valuable for the absorption two important minerals' selenium and zinc.
Perfect Amino comes in tablet and powder form, it has no soy, gluten or dairy, is vegan sourced from the best non GMO ingredients, the formula was designed to work efficiently in the body with little or no waste, this makes the Advanced Bionutritionals Perfect Amino reviews easy on the eye, here are some customer testimonials:
Amazing results *
By Richard H. (Los Angeles, CA) – 4/24/2019
I have severe muscle weakness in my legs. Doctors say they can not help me other than working out, which leaves me very sore and very little results. Immediately after taking my Ist 5 pills, I got a huge burst of energy and could walk up stairs without holding onto the rails. I don't have the soreness after working out, like before. It's been a life changer for me. I can actually feel my muscles responding. Great, great product!!!! I Recommend This Supplement Verified Customer
Wow! *
By Dan R. (Plantation, FL) – 4/3/2019
Everything they write to promote this product is true. A must have! I Recommend This Supplement Verified Customer
Boom *
By Gerald A. (South Hamilton, MA) – 3/20/2019
This product works. I seem to have more energy during workouts and a better overall energy level throughout the day, for sure. Nice without over doing caffeine. I Recommend This Supplement Verified Customer
Reserves of Energy *
By colleen T. (Santa Barbara, CA) – 3/3/2019
How many do you need to take?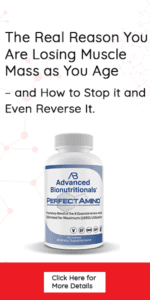 By now, I hope that you see how essential amino acids are pivotal to many processes that happen in our bodies, from muscle development, repair to your immune system, a deficiency in these essential amino acids does have a negative effect your whole body including your immune, reproductive, digestive and nervous systems.
According to the Perfect Amino reviews people are taking five to eight tablets a day on an empty stomach, depending on what you want to achieve others are taking five to eight supplements up to three times a day.
What are the key benefits?
Perfect Amino is like the description a unique blend of 8 essential amino acids that are optimized to be absorbed 99% of the time in every way according to the Advanced Bionutritionals Perfect Amino reviews taking this supplement will benefit you in a number of ways:
Build body mass without putting any weight on
Build stronger bones
Improve stamina and endurance
Make skin younger looking
Healthier hair
Better mood
Better concentration
Frequently asked questions
You may have some questions that need answering, so here is a video with Doctor Frank Shallenger from Advanced Bionutritionals and Doctor David Minkoff answering some frequently asked questions about Perfect Amino.
Both gentleman aren't young anymore but their stamina and vitality is a perfect example of what supplements like Perfect Amino can do for your body, enjoy!
Reviews
I've gotten a renewed balance of my energy since I've started taking the Perfect Amino Formula from Advanced Bionutritionals. The support for my body is significant, my stamina in exercise improved, clarity in thinking brighter I've ordered several bottles for my 30-something daughter as well! Thank you! I Recommend This Supplement
Verified Customer that purchased Perfect Amino Formula from Advanced Bionutritionals.
References
https://www.ncbi.nlm.nih.gov/pmc/articles/PMC3183816/