Rheumatoid arthritis in the hands is a very painful condition, it affects the joints and the primary cause is inflammation. Read on and discover how to help rheumatoid arthritis to improve and what is the best treatment rheumatoid arthritis hands.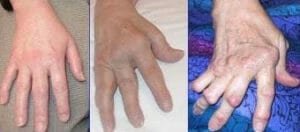 ​Common symptoms of RA in the hands include pain in the joints, tenderness, swelling, fatigue, a loss of motion and warmth around the hand joints.
Not only does rheumatoid arthritis affect the hands it can also appear in other parts of the body, the symptoms can cause a domino effect in the sense of mood change, happiness, emotions and productivity. The causes of Ra can be varied some believe it is caused by a virus from a previous infection, inevitably the result is inflammation in the joints. So how do we tackle joint inflammation?
---
Natural methods for joint inflammation
​I believe that nature can help with joint inflammation pain relief, we know that the pain is caused by inflammation, here are my five recommendations:
1.Curcumin. 
According to this​ scientific study Curcumin is a very powerful antioxidant that has a great number of natural anti-inflammatory characteristics that are capable of helping many typical health conditions like Rheumatoid arthritis. Curcumin is taken from the age-old Indian spice called Turmeric, it has been used for many years to help with inflammation and fungus.
​2. Omega 3
​Omega 3 is essential for our human health; however, our bodies can't make enough of them. So, we need to find the extra Omega 3's from the likes of fish oils such as salmon and tuna fish or from other food sources like krill, algae, nuts and plants. The best-known source of Omega 3's are fish supplements they have been shown to be effective in treating arthritis in people as well as improving joint health.
3.Vitamin D
Vitamin D is vitamin derived from certain types of food like dairy products and fish, Vitamin D is an essential nutrient because it performs a pivotal role in overall health improvement. The main source of Vitamin D comes from sunlight, obviously in the Western world we aren't accustomed to large amounts of sunshine all year round, a condition called rickets or weak bones can result from a deficiency in Vitamin D, so we need the help of a supplement to boost our vitamin D levels. In this study​ it was conclusively proved that Vitamin D deficiency was strongly associated with Rheumatoid arthritis.
4.Probiotics.
​A link between imbalanced gut bacteria and RA has been established by Chinese researchers, during the research patients with the condition were identified as having a low level of haemophilus (a gut bacteria) in addition some minerals had difficulties breaking down in the affected patients. A six-week course of supplements containing Bacillus Coagula's bacteria was administered to one group while a placebo was given to another. The group that were given the supplements showed an improvement in their mobility along with a reduced level of c-reactive protein produced by the liver when there is inflammation present.
5.Serrapeptase
​Serrapeptase​ is an enzyme used for a long time throughout Europe and Asia because of its unique ability to dissolve dead tissue and inflammation within the body. After the dead tissue id dissolved it is discharged from the body via the kidneys. Serrapeptase is amazingly effective for inflammation relief and relieving the symptoms of Rheumatoid Arthritis allowing the body to begin to repair itself. Buy Serrapeptase here​
---

. Recommended for Rheumatoid Arthritis
Serranol​ – This unique formula has 80,000IU of Serrapeptase,50mg of Ecklonia Cava Extract​, 250mg of CurcuminX4000, plus 1000IU of Vitamin D3. Available only from The Good Health Naturally Superstore, we suggest Serranol for anyone who has painful symptoms and inflammation.
Krill Miracle™​– Krill oil is necessary to keep the immune function normal, it also helps with joint mobility, brain function and healthy skin. It contains Krill Oil, concentrated Omega 3,6 & 9 fatty acids for a balanced acids nutrition
Prescript-Assist®​ – A soil-based combination of 29 plus probiotic microflora, designed to advance a healthy GI tract microflora and aid normal bowel function
Vitamin D3/K2 Spray​– This spray contains Vitamin D3 & K2, it is administered under the tongue and can help to promote a healthy immune system response, better hormonal balance and improved calcium absorption. All these vitamins contribute to better overall cardiovascular health.
GlycoBoost™​– L-Glutamine is a marvellous proprietary blend that assists in supporting healthy muscles and joints.
---
Please follow and like us: